Many anglers prefer to secure their fishing for the season, safe in the knowledge that they are guaranteed fishing on a beat of their choice. Traditionally, season rods have been for a named day per week and many Wye and Usk fisheries still operate on this basis. New, more flexible systems are becoming more common, however.
For details of season rods on specific fisheries, please see the links below.
River Wye
Gromain & Upper Llanstephan; Llangoed & Lower Llanstephan; The Rectory
These three beats are let to a 'pool' of season rods. Because the salmon fishing is dependent on good flows on the upper river, season rods can then fish on each and every day of the week to ensure they do not miss ideal conditions. It is possible to take a day per week but the preference of most fishers is to join the season rod pool. Rods book their day and beats in advance or on the day with the Booking office. It is never overfished and in all, over 3.5 miles with 34 pools are available with some of the best fly fishing on the river. There is some excellent trout and grayling fishing for those interested.
Please click here for more information.
| | |
| --- | --- |
| Full rod 2017 | £650.00 |
| Half rod 2017 (alternate weeks) | £350.00 |
| Gromain & Upper Llanstephan only Full rod (any day) | £350 |
| Grayling Season rod 18th Oct to 2nd March | £65 |
---
Cefnllysgwynne
Approximately 2miles of double and 1 mile of single bank fishing on the River Irfon at Llanynis some 4 miles from the confluence with the Wye and 3 miles from Builth Wells. The beat averages 30 yards in width and has an excellent variety of water. The wading difficulty also varies - relatively easy in the gravel sections but more difficult over the bedrock.
Cefnllysgwynne offers good trout and excellent grayling fishing, with the possibility of occasional salmon later in the season (The Salmon season ends on 25th October on this river). The Irfon rises and falls quickly after heavy rain, usually being fishable within 24 - 36 hours of a flood.
Season rods are flexible and not tied to one day per week. Season rod holders must be aware that day ticket anglers may also be booked onto the water.
Season rod availability:
| | |
| --- | --- |
| Salmon/Trout 3rd March to 25th October (Trout season ends 30th Sept) | £130.00 |
| Grayling 1st October to 14th March (Trotting a maggot is permitted from 1st November to 2nd March) | £130.00 |
| Any species - All year | £200.00 |
Please contact us if you are interested.
Excellent self-catering accommodation in a 2 bedroom cottage or a 4 bedroom farm house (sleeping 4 or 8 respectively) is available close to the fishing.
Please click here for more information.
---
Wyebank & Courtfield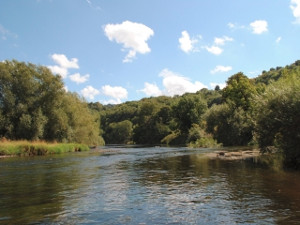 Spring salmon syndicate rods for unlimited access 3rd March to 15th June inclusive. Consisting of just under a mile of bank the fisheries are well placed towards the top end of the lower Wye and conditions permitting can hold a good head of springers. Wyebank offers wonderful fly fishing water, and although only 400 yards (including the bottom 175 yards of Courtfield), there is a chance of taking a fish throughout its length. Courtfield is the beat for large springers, with 20lb+ regularly showing in catch reports.
2018 Price: £325.00
To purchase, please contact us or for more information please click here.
---
River Usk
Breconshire Fishery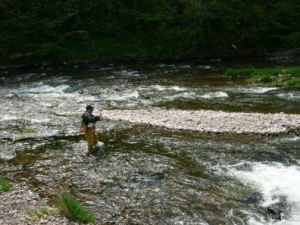 A 2km stretch of River Usk fishing downstream from Llanfaes Bridge in Brecon. The river here mostly flows over gravel meaning that wading is easier than other parts of the river. Along with some good trout fishing, this stretch also has some decent salmon pools. The wild trout population is also supplemented by occasional stocking.
2017 : 2 Trout and 1 Salmon bag limit
| | |
| --- | --- |
| Resident Season Ticket - (Please note that a Resident must live in Brecon Town) | £30 |
| Non Resident Season Ticket | £40 |
| Under 14 Season Ticket | £15 |
| Disabled or OAP over 65 Season Ticket(on production of photographic evidence) | £20 |
---
Llanover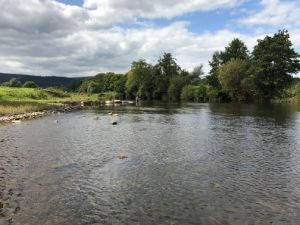 The Tyr Afon, Fro Isaf and Bryn beats in the middle reaches of the River Usk constitute some of the finest fishing on this famous Welsh river. In beautiful and varied scenery, the fishing extends to 2 miles and the rights to fish are mostly from both banks. The estate lets out three trout and salmon beats on a seasonal basis. The rights to fish are mostly from both banks. The beats provide interesting and varied salmon and trout water in delightful surroundings. The Usk is noted as an early season river for wild brown trout with the occasional sea trout (although the latter are rarely targeted). In most years the occasional salmon will have taken up residence at Llanover in March although the best of the salmon fishing is from April onwards. The banks have easy access and as this part of the river flows mostly over gravel, the wading is relatively easy. Llanover also has a resident ghillie on hand to advise. The river is a notified Site of Special Scientific Interest (SSSI) and European Special Area of Conservation (SAC).
| | |
| --- | --- |
| Monday 2017 | £625.00 + VAT |
| Saturday 2017 | £625.00 + VAT |
Please contact us if you are interested.