For those fly fishers who enjoy stalking wild fish in remote waters, these fisheries are just what you are looking for! Set in stunning scenery, they can be anything from six feet wide mountain streams to more leisurely paced, medium-sized rivers. Whichever you decide upon, an 8 foot 3/4 weight is the largest rod that you will need and most of the streams require smaller rods to get underneath the bankside foliage. All these beats offer feisty wild brown trout that are fantastic fun to catch on lightweight outfits. The average size is probably around 6 to 8 inches. Bigger fish, however, are present - these beats have produced both wild brown trout and grayling to over 3lbs since the start of the Passport scheme in 2003. rewards are there to be found!
These beats used to be part of our "Roving Voucher" scheme, which came to an end on 31st December 2012.
The Wild Stream Fisheries can be accessed two ways:
Pre-bookings
For those who like to secure their fishing, the Wild Stream fisheries are available to pre-book online or over the telephone. Once you have booked, you will be emailed your day ticket, along with maps, directions etc. Unlike other Booking Office beats, however, you book the beat (rather than individual 'rods'). This means that the beat is exclusively yours for the day, enabling you to fish just by yourself or, if you wish, to take others along for no additional cost (the maximum anglers permitted is shown on a beat's page).
Like Booking Office beats, pre-bookings on the Wild Streams can be made by anyone i.e. you do not need a Season Permit to do so.
Wild Stream Season Permits
The main difference with the Wild Streams is that they cannot be booked on the day. In fact, bookings for any particular day cease at 6pm the day before. Those beats that haven't been pre-booked are then available only to those in possession of a Wild Stream Season Permit, who are free to roam and fish any of them. Season Permits can be bought from the Foundation £80 for a 1 rod Permit or £120 for a 2 Rod Permit. The 2 rod permit entitles you to take a friend or family member along with you.
A list of beats available for the each day is shown via the link above right. This list is viewable only by Season Permit holders entering their username and password. Alternatively, permit holders can find out what beats are available for the day by calling us on 01874 712074. The list of available beats could be long so please have an idea of which you would like to fish before calling us.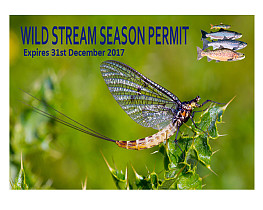 £ 80.00
Wild Stream 1 Rod Season Permit 2017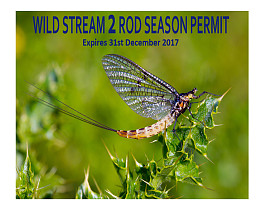 £ 120.00
Wild Stream 2 Rod Season Permit 2017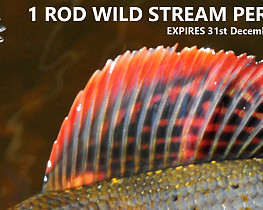 £ 85.00
Wild Stream 1 rod Season Permit 2018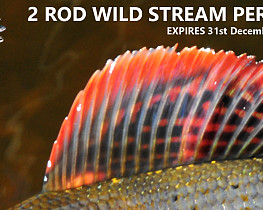 £ 125.00
Wild Stream 2 Rod Season Permit 2018
A more detailed summary of how the Season Permits work can be viewed here.
Full terms and conditions for the Wild Stream Season Permits can be found here.