ID:31170
A. S. from NEWENT
Saturday 29 April 2017 (1 day ago)
Area:Upper Wye
Beat:Ty Newydd
Fishing:Trout (River)
No. of Anglers:1
river low with very little flow, french nymphed faster water with all fish caught in the most oxygenated water. trout to twelve inches and grayling to 13 inches. very frustrating day there were ldo's drifting down all the feeding lanes and only a couple of very splashy rises to them. the nymphs were fished about a foot under the surface where in the clear water you could see grayling intercepting emergers . still a cracking beat to fish
7 Trout, 9 Grayling
ID:31171
R. S. from Upton On Severn
Saturday 29 April 2017 (1 day ago)
Area:Upland Llyns
Beat:Llyn Bugeilyn
Fishing:Trout (Stillwater)
No. of Anglers:1
Arrived at 9am. A strong breeze but no rain forecast so I was optimistic of a good day and I had a cracker. After recently purchasing George Barron's new book'At the end of the line' (excellent book and my new Bible)I tied a few flies last night for today's trip. The first cast consisted of a yellow tailed Bibio (12)on point and aJoey 2 butt(14) on dropper fished with a slow retrieve on a floating line and hover leader. Both taking fish instantly and the 3rd and 4th fish came in together !! Took a dozen in the first 3 hrs and then changed tactics as a few rises were spotted in the waves. Had 1 on a Sedgehog then all quiet so retuned to the Joey 2 butt to move me off 13 and then decided to head for home with a big smile on my face after no. 14 came to hand.
Great place and lovely aggressive trout with only a Canada Goose on eggs for company
Thanks WUF
14 Trout
ID:31172
O. B. from Lydney
Saturday 29 April 2017 (1 day ago)
Area:Usk
Beat:Greenbank
Fishing:Salmon
No. of Anglers:1
8 x trout 10-17 inches, various spiders. This new beat took a bit of finding. On the instructions: I made it 2 miles less on the A4042 from the Abergavenny roundabout to the left turn on the outskirts of Llanover than the 5.4 miles given – oh, I see, the miles and kilometres are transposed in the directions – plus the brown signs to various churches are currently hidden by vines. Anyway, what you do is drive through Llanover in the direction of Newport and turn left on the outskirts just before the national speed limits sign, after which the directions are good. Once parked on the field, I think this place is a delight. The wading and access is as about as easy as could possibly be, to some very wide open pools – it looks more like parts of the middle Wye than the Usk. Dark clouded skies and an increasingly cold wind, as so often during this past April, seemed to put paid to finding any rising fish although a few olives were trapped in foamy patches and the birds were certainly helping themselves. Nothing was done with the dry fly rod on this occasion but a team of spiders produced a few trout from the fast water, including a couple of good ones. On the right day with rising trout, I suspect you might be busy for hours on just one or two pool tails. I never got round to putting the salmon rod together, although there are some interesting looking pools. Given the amount of fishing available, the price is reasonable and it would be nice if we had this one all week!
8 Trout
ID:31176
D. M. from WREXHAM
Saturday 29 April 2017 (1 day ago)
Area:Upper Wye
Beat:Dolgau
Fishing:Salmon
No. of Anglers:2
Low water meant that we abandoned fishing for salmon and fished for trout. We raised a couple of good fish, but none were brought to the net.
ID:31152
R. H. from Bodenham, Hereford
Friday 28 April 2017 (2 days ago)
Beat:Holme Lacy 4
Fishing:Salmon
No. of Anglers:1
Approximately 9lb cock fish to Robin Hemming on an FC.
1 Salmon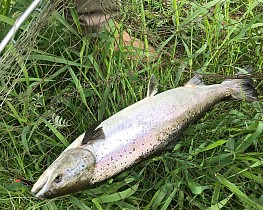 ID:31153
T. M. from Hereford
Friday 28 April 2017 (2 days ago)
Area:Reservoirs
Beat:Llandegfedd Reservoir
Fishing:Trout (Stillwater)
No. of Anglers:1
Cold wind blowing down the Reservoir so no action other than a little movement around 12.30pm.
ID:31159
D. B. from Fareham, Hampshire
Friday 28 April 2017 (2 days ago)
Area:Usk
Beat:Lower Tarrell
Fishing:Trout (River)
No. of Anglers:1
Good day on stream, some small fish in the deeper pools but easly spooked.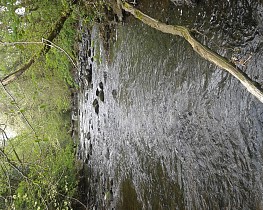 ID:31160
C. H. from Bromsgrove
Friday 28 April 2017 (2 days ago)
Area:Upper Wye
Beat:Abernant
Fishing:Trout (River)
No. of Anglers:1
Fabulous day on the Wye which was very low, the weather chilly and overcast. On arriving I spotted fish topping in the deep water at the bottom of the first field so made my way down, I had one on a dry after a lot of effort and decided I should be catching more so switched to a Klinkhamer with a gold head hares ear underneath and took another on the hares ear. Decided to make my way up stream to the faster water and found fish taking olives off the surface, I switched to a traditional style dry and didn't stop catching, fantastic dry fly fishing. I had a break to explore the rest of the beat and lost a small trout before returning to the fast water and taking trout after trout, I lost count but quite easily had 18+ and two out of season Grayling.
A day to remember thank you WUF.
18 Trout, 2 Grayling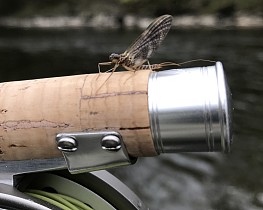 ID:31163
J. D. from Hereford
Friday 28 April 2017 (2 days ago)
Area:Irfon & Ithon
Beat:Aberbwtran
Fishing:Trout (River)
No. of Anglers:1
River clear and very low, less than a foot on the Cilmery gauge. Slightly overcast. Fish hard to find from 1pm til 4pm when the first of 4 grayling took a weighted nymph with an orange bead. Three more grayling in the next hour with the best at 16", a cock fish with two fresh wounds on its flank. This fish came from surprisingly shallow water incidentally, no more than 6" I would say. I switched between nymphing and dry fly at intervals during the day, encouraged by the presence of a trickle of olives of various hue but only had one take, trout of 8" that took a Jingler. Left the beat at 6pm.
1 Trout, 4 Grayling
ID:31164
R. O. from London
Friday 28 April 2017 (2 days ago)
Area:Taff
Beat:Merthyr Angling Association
Fishing:Trout (River)
No. of Anglers:1
It's a great river but hard on my legs :) Level of water was lower then a month ago. Fish seems to feed for a short periods then they tend to take several hours break. Method spin. Caught and landed one 40+ (C&R) many came off right away.

Ps I really like this online Fishing Passport service.

1 Trout